Rhubarb Shortbread Bars
A thick and buttery shortbread crust, topped with a layer of simple rhubarb filling, and topped with even more tender shortbread. Grenadine is the secret ingredient in this recipe that makes these rhubarb bars bright red and can be found in the juice section of the grocery store.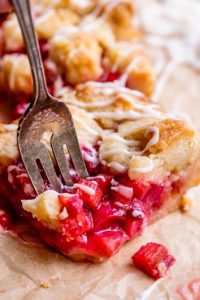 For the crust/topping
• 1 cup butter, softened
• 3/4 cup granulated sugar
• 1 ½ tsp vanilla
• 2 cups all-purpose flour.
• 3/4 teaspoon kosher salt
For the rhubarb filling
• 3 cups rhubarb, chopped ½ to 1-inch pieces
• 1/2 cup grenadine syrup, to be drained eventually
• 3/4 cup sugar
• 1/4 cup all purpose flour
• 1 tablespoon lemon juice, optional
• 1 teaspoon lemon zest, optional
For the glaze: 1 cup powdered sugar, 2-3 teaspoons of milk, ½ tsp vanilla, pinch of salt.
Add all the rhubarb to a bowl, along with 1/2 cup grenadine syrup. Stir until rhubarb is coated. Let sit for 1-2 hours on the counter, stir occasionally. This is not a necessary step, this is if you want a nice bright red colour.
Crust: Preheat oven to 375 degrees. Line an 8×8 or 9×9 pan with parchment paper or spray with nonstick spray. In a large bowl add the 1 cup of butter and beat until creamy. Add the ¾ cup of sugar and beat again until fluffy. Add the vanilla and mix. Add the flour and salt and mix until it comes together and starts to form a ball. Don't over mix. Divide dough into two. Cover one ball with saran and put into the fridge. Press half the dough into the prepared pan, dampening your hands may help. If you have time, chill this dough for 10-20 minutes for a more tender crust. Bake the crust for about 15 minutes, or until light brown on the edges. Set the crust aside to cool for a few minutes. Lower oven temperature to 350 degrees.
For Filling: Drain the rhubarb, stir in 3/4 cup sugar (add a couple extra tablespoons if you skipped the grenadine soak. Add 1/4 cup all purpose flour and stir. Add the lemon juice and zest if using. Pour filling over baked crust. Form the second ball of dough, break off medium sized pieces of shortbread and drop on top of rhubarb filling. You don't have to cover the rhubarb entirely. Bake for 45- 50 minutes or until shortbread is golden and rhubarb is tender. Let cool completely.
Vanilla Glaze: Combine 1 cup powdered sugar with 2 teaspoons milk, 1/2 teaspoon vanilla, and a pinch of salt. Whisk until smooth. Drizzle over the top of the cooled bars and let the glaze set up for 20-30 minutes before slicing and serving.