Recipe
This soup is hearty and delicious and a perfect comfort meal as the weather turns colder. I made it the other day for supper; preparing it in the morning before I went to work. A quick mash of the potatoes when you get home, add the last three ingredients and within 20 minutes, you have a tasty, filling meal. It's a thick soup. I added a bit more milk to thin it to the consistency I like. I served it with toasted buns.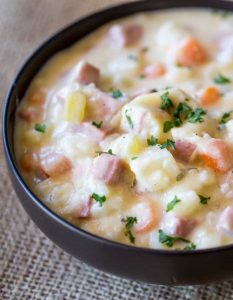 Slow Cooker Potato and Ham Soup
• 8 cups russet potatoes , diced
• 1 yellow onion , diced
• 2 large carrots , peeled and chopped
• 1/2 cup chopped celery
• 16 ounces cubed ham (I used a ham steak)
• 1 teaspoon Kosher salt
• 1/4 teaspoon fresh cracked black pepper
• 4 cups chicken broth (1 box of chicken broth)
• 1/4 cup flour
• 1 1/2 cups of cream
(you can also use milk, or I used a combination)
• ½ cup sour cream
Add the potatoes, onion, carrot, celery, ham, Kosher salt, pepper and chicken broth to your slow cooker and cook on low 7-8 hrs or high 4-5 hrs. Using a potato masher, mash about 1/3 of the potatoes. (Don't worry, the ham won't really mash that much). Mix the flour, cream/milk and sour cream in a bowl, and then add to the soup. Cover and cook on high for an additional 15 minutes. If you find it too thick, add additional milk until it's the desirable consistency. Taste and season.