Recipe
Our favourite office baker makes us a treat every Thursday. The following recipe was our morning snack a couple weeks ago, and everyone loved them. Buttery oatmeal cookies with chewy coconut and the spice mix that everyone loves. She kindly shared her recipe with me to share with all of you.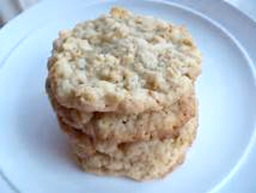 Spicy Oatmeal Cookies
• 1 cup butter, softened
• 1 cup granulated sugar
• ½ cup brown sugar, packed
• 1 egg
• 2 tbsps molasses
• 1 tsp vanilla
• 1 ½ cups of all-purpose flour
• 1 ½ cup rolled oats
• 1 cup coconut
• 1 tsp baking powder
• 1 tsp baking soda
• 1 tsp salt
• 1 tsp cinnamon
• 1 tsp nutmeg
• 1 tsp allspice
Cream butter and both sugars together. Beat in the egg. Add the molasses and vanilla. Stir remaining ingredients together and add. Mix well. Drop by spoonfuls onto greased baking sheet. Press flat with a sugared fork (wet fork with water and dip in granulated sugar). Bake in a 300 degree oven until golden, about 12 minutes.