Recipe
It's the perfect time to try this recipe with the abundance of fresh zucchini in the garden. It's vegetarian, low carb, and can be eaten as a meal on its own, or served with meatballs or chicken if you want to add a protein. I made it for dinner last night and we really enjoyed it. I'm not going to lie, it's a little on the "sloppy" side being that zucchini adds moisture to the dish, but I hate dry lasagna so I loved this. I also love using zucchini in place of pasta because it adds the texture of noodles, but not the carbs.
Spinach and Zucchini Lasagna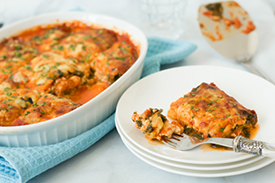 • 1 tbsp extra-virgin olive oil
• 1 half onion, finely chopped
• 4 garlic cloves, crushed
• 2 tbsps tomato paste
• 1 28 oz. can crushed tomatoes
• Salt and pepper to taste
• ½ tsp sugar
• 1 tbsp chopped fresh basil
• 3 cups spinach
• 15 oz part-skim ricotta
• 1 large egg
• ¼ cup freshly grated Parmesan cheese
• 4 medium zucchini, sliced ⅛" thick
• 16 oz part-skim mozzarella cheese, shredded
In a saucepan, heat olive oil over medium heat. Add onions and cook 4-5 minutes until they are soft and golden. Add garlic and sauté, being careful not to burn. Add tomato paste and stir well. Add crushed tomatoes and basil. Add salt and pepper and sugar. Cover and bring to a low simmer for 25-30 minutes. Finally remove from the heat and add the spinach. Stir well until the spinach has wilted. Adjust the seasoning if you think it is necessary. Preheat oven to 375°. In a medium bowl mix ricotta cheese, parmesan cheese and an egg. Stir well. In a 9×12 casserole spread some tomato sauce on the bottom. Layer 5 or 6 zucchini slices to cover. Place some of the ricotta cheese mixture over the zucchini, and top with the mozzarella cheese. Repeat the layers until all your ingredients are all used up. Top with sauce and mozzarella. Bake 30 minutes covered and 10 minutes uncovered. Let stand about 10 minutes before serving.