Recipe
If you need a quick and easy dinner recipe, this Spinach Parmesan Pasta is a good one. It's a delicious vegetarian dish on its own or nice served as a side dish. The flavors are simple, but tasty. You can toss in other veggies or add some chicken if you wish. We like to add fresh chopped tomatoes when serving. Using fresh parmesan is a must.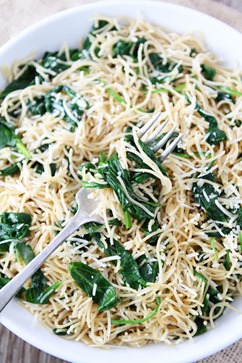 SPINACH PARMESAN PASTA
• 8 oz uncooked pasta (I use spagettini)
• 3 tablespoons butter
• 2 cloves garlic, minced
• 5-6 cups packed baby spinach ( I end up putting in the
entire small container 142 g)
• 1/2 cup grated Parmesan cheese
• Salt and freshly ground black pepper, to taste
Add the pasta to a large pot of boiling salted water and cook until al dente. Drain the pasta, reserving 1/2 cup of the pasta water. Set pasta aside. Using the same pot, melt the butter over medium heat. Add the garlic and cook for 2-3 minutes. Add in the pasta and spinach. Gently toss and cook until spinach leaves are wilted. If the pasta starts to dry out, add in some of the reserved pasta water. Stir in 1/2 cup of the Parmesan cheese and toss until combined. Season with salt and freshly ground black pepper, to taste. Pour pasta into a large bowl. Garnish with additional Parmesan cheese and serve immediately.