Recipe
Rhubarb season is here. Rhubarb is actually a vegetable that thinks it's a fruit. Its sweet/tart flavour is deliciously used in many dessert recipes. This Strawberry Rhubarb dump cake is a super easy way to use up some of the rhubarb that is growing in your garden. You can serve this hot or cold, with or without a scoop of vanilla ice cream.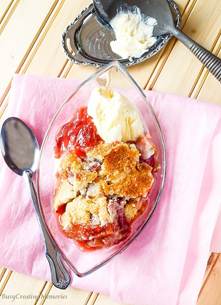 Strawberry Rhubarb Dump Cake
• 4 cups diced Rhubarb
• 4 cups quartered strawberries
• 1 cup sugar
• 2 Tablespoons cornstarch
• 2 Teaspoons vanilla
• Pinch of salt
• 1 box yellow or white cake mix
• 1 cup Sprite or 7Up Soda
• 1/4 cup melted butter
Combine strawberries, rhubarb and sugar in bowl. This is the part that takes the longest of the entire recipe. But it is also the most crucial. It allows the flavours to blend and provides a soft and juicy fruit filling. Stir until all the fruit is coated. Then let sit for one hour. After soaking for an hour, drain all but 1/2 cup of the juice that was expressed. Stir back in the remaining 1/2 cup juice, plus the corn starch, vanilla and salt with the fruit. Preheat the oven to 425 Degrees. Lightly spray a 9X13 pan and then pour in the fruit filling. Sprinkle with the cake mix. Drizzle the top with the melted butter and a cup of soda. DO NOT STIR! Bake for 25 minutes at 425 degrees. Lower the temperature to 350 degrees and cook for the remaining 15-20 minutes. Cook until the cake is golden and the rhubarb is soft. This is even delicious made ahead and served cooled. The filling has a chance to thicken up and the flavors to blend more. Store it in the fridge overnight and if you want it warm, you can toss it in the oven on a low temp to warm it a few minutes.