Recipe
Pulled pork sandwiches are one of my favourite things to make when serving a group of people. They are great any time of the year but especially in the summer when you don't want to turn the stove on. Put everything in your slow cooker and walk away. I always make coleslaw to put on them.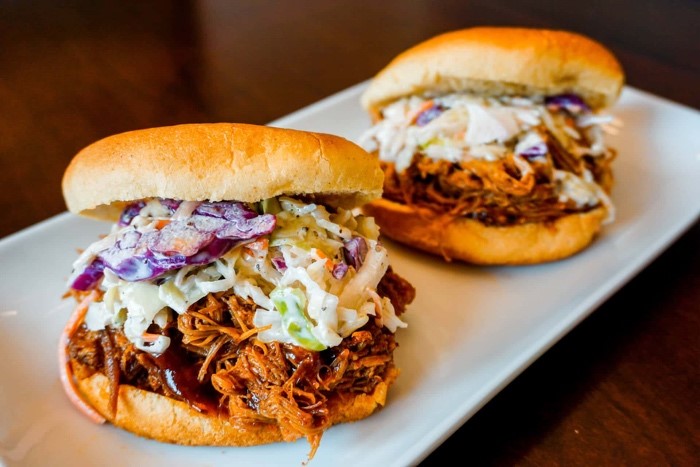 Texas Barbecue Pulled Pork
• 3 pounds pork shoulder (or butt)
For the Dry Rub
• 1/4 cup salt
• 1/4 cup black pepper
• 1 tablespoon garlic powder
• 1 tablespoon onion powder
• 1 tablespoon paprika
• 1/2 teaspoon cayenne pepper.
For the Cooking Liquid
• 1 garlic clove, minced
• 1/2 cup brown sugar
• 1/2 cup apple cider vinegar
• 1 cup ketchup
• 2 teaspoon Worcestershire sauce
• 1/2 teaspoon salt
• 1/2 teaspoon black pepper
• 1/2 teaspoon paprika
• 1/2 teaspoon ground mustard
• 1 tablespoon liquid smoke
In a small bowl, mix the Texas dry rub ingredients together. Cut any excess fat from the pork shoulder. Apply the Texas dry rub on all sides of the pork shoulder. You do not need to use all of the dry rub – only use enough to cover the pork. Place the pork shoulder in the slow cooker. In another bowl, mix all of the cooking liquid ingredients together. Pour the cooking liquid into the slow cooker. Cook on low heat for at least 8 hours or until tender. Once the pork is finished cooking, remove it from the slow cooker and shred it using forks. Should be easy when it is nice and tender! Serve on hamburger buns with barbecue sauce and coleslaw. It is also delicious served over nachos.