Recipe
My daughter is a vegetarian and every so often she'll share a recipe with me that she thinks even the biggest of meat lovers will enjoy. This shepherd's pie certainly passes the test – it's not only meat and dairy free, its hearty, delicious, and perfect for the season.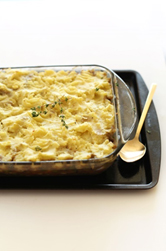 VEGAN SHEPHERD'S PIE
FILLING
• 1 medium onion, diced
• 2 cloves of garlic, minced
• 1 1/2 cups uncooked brown or green lentils, rinsed and drained
• 4 cups vegetable stock
• 2 tsp fresh thyme or 1 tsp dried thyme
• 1 10-ounce bag of frozen mixed vegetables OR 1 1/2 cups of
fresh vegetables: peas, carrots, green beans, corn
MASHED POTATOES
• 3 Pounds Yukon gold potatoes, thoroughly washed
• 3-4 tbsp vegan butter (non-vegan butter will work if you prefer)
• Salt and pepper to taste
Set oven to 425 degrees F (218 C) and lightly grease a 9 x 13 baking dish. Set aside for later. Slice large potatoes in halves and place in a large pot filled with water. Bring to a boil and then reduce to a medium heat, covering and leaving to cook for 20-30 mins or until they can be easily pierced with a fork. Once cooked, drain, and transfer to a mixing bowl. Mash with a masher or a fork until smooth. Add desired amount of vegan butter (2-4 tbsp), and season with salt and pepper. Cover and set aside. In a large saucepan over medium heat, sauté onions and garlic in olive oil until brown – about 5 minutes. Add lentils, stock, thyme, and salt and pepper to taste. Stir and bring to a low boil. Reduce heat to a simmer. Continue cooking until lentils are tender (35-40 mins). In the last 15 minutes of cooking, add the vegetables and stir. Replace lid and continue to cook. When the 35-40 mins is up, transfer the mix to your prepared oven-safe baking dish and carefully top with mashed potatoes. Smooth down with a fork and season with salt and pepper. Place on a baking sheet to catch any overflow and bake for 10-15 mins or until the mashed potatoes are lightly browned on top. Let cool and enjoy!