Recipe
This Veggie Lasagna is packed with vegetables including sautéed baby spinach and Crimini (Baby Bella) mushrooms, and grated zucchini. It also has ricotta and mozzarella cheese with oregano which adds to its delicious flavor. I made it last weekend for my vegetarian daughter and she loved it. Feed a crowd or your family with this hearty dish, it also makes a great warmed up lunch. Recipe recommends letting it sit 8 hours before baking, but I baked it immediately and it was delicious.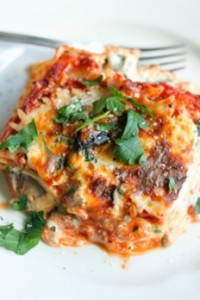 Veggie Lasagna
• 2 cups of your favourite tomato pasta sauce
• 28 ounce (794 g.) can of diced tomatoes
(I liked the herb and spice ones)
• 1 medium zucchini, shredded (2 cups)
• 1 32 ounce (907 g.) container of ricotta cheese
• 11 oz. fresh baby spinach, sautéed with 2 tablespoons
olive oil and a pinch of salt
• 8 ounce Crimini (Baby Bella) mushrooms, sliced and
sautéed with 1 tablespoon olive oil and a pinch of salt
• 2/3 cup fresh grated Parmesan cheese
• 1 1/2 teaspoons dried oregano (or you can substitute 2
tablespoons chopped fresh oregano)
• 9 lasagna noodles
(I make 12 just in case there are broken noodles )
• 3 cups shredded mozzarella cheese
• Salt and pepper to taste
• Optional: fresh chopped basil or Italian parsley to garnish
-Sauté baby spinach with 2 tablespoons of olive oil and a pinch of salt over medium heat in a large pan with a lid. Remove to bowl and allow to cool. Sauté the sliced Crimini mushrooms with 1 tablespoon of olive oil and a pinch of salt in a medium pan for 4 minutes over medium-high heat. Allow to cool. Bring a large pot of water and 1 tsp. salt to boil. Cook lasagna noodles for 10 minutes (defer to the directions on your lasagna noodle package.
-In a large mixing bowl, combine pasta sauce, diced tomatoes and 2 cups of grated zucchini.
-In a large mixing bowl, combine thoroughly the ricotta cheese, cooled sautéed spinach and oregano.
-Assemble: Spread 1/2 cup pasta sauce mixture evenly in an ungreased 13 in. x 9 in. pan. Using an offset or baking spatula will help with spreading layers. Lay 3 lasagna noodles on top. Spread 1 cup pasta sauce mixture on top of noodles. Scoop 1-1/2 cup of the spinach mixture and drop onto the sauce layer by small spoonfuls. Spread the spinach mixture evenly being careful not to mix the layers. Lay 1/3 of the mushrooms evenly. Sprinkle 1 cup of shredded mozzarella cheese over the mushrooms. Repeat 2 more times or until the top of the pan is reached. (9 noodles total). Top with cheese.
-Cover with aluminum foil and let it sit in the refrigerator for 8 hours. This allows flavours to blend well, but can be baked immediately.
-Preheat oven to 400 degrees F. Bake covered with aluminum foil for 45 minutes. At 45 minutes in, remove the aluminum foil and bake for another 10 minutes (55 minutes total baking time). When done, the Veggie Lasagna should be bubbling on the sides, allow to cool for 10 minutes before serving.