Recipe
The most gooey, chocolatey zucchini brownies ever! You'd never guess that these are a healthier version brownie, made with whole wheat flour, zucchini and applesauce in place of the oil. It's a great way to use up that zucchini in your garden, and you can feel good about serving these to your family. I am giving you the recipe as I found it. I did do some tweaking when I made these; I used granulated sugar because I didn't have coconut sugar. I just cut back on the sugar by ¼ cup because I find the chocolate chips add the needed sweetness anyway. And, I used Nutri flour blend instead of whole wheat flour due to my intolerance to whole wheat. I highly recommend not decreasing the amount of chocolate chips in the batter because it adds a sweetness and decadence to these brownies. You also can sprinkle some chocolate chips on top, but I didn't bother. Unless someone sees you making these, they will never guess that there is zucchini in them. I love them; they satisfy my chocolate craving with a little less guilt.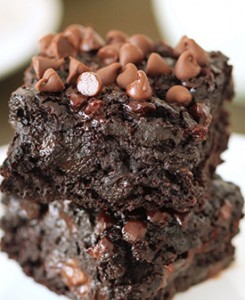 Zucchini Chocolate Brownies
• 2 large eggs
• 1 tablespoon vanilla extract
• 3/4 cup coconut sugar or unrefined sugar or granulated sugar
• 1/4 cup (60 ml) unsweetened applesauce
• 1 cup (125 grams) whole wheat flour or whole spelt flour or all-purpose flour
• 1/2 cup (45 grams) cocoa powder
• 1 1/2 teaspoons baking soda
• 1/4 teaspoon salt
• 2 cups (about 300 – 320 grams) peeled and grated zucchini
• 1 cup semi-sweet chocolate chips
Preheat the oven to 350 degrees F (176 degrees C) and line an 8"x8" pan with parchment paper or spray with baking spray. In a large bowl, mix together the eggs, vanilla, coconut sugar (or granulated), and apple sauce and let sit for 5 minutes. In a separate medium bowl, mix together the flour, cocoa powder (sift if lumpy), baking soda and salt. Add the dry mix to the wet; gently stir until combined. Be sure not to over mix! Then fold in the zucchini and 1 cup chocolate chips. Pour the batter into the pan and even the surface with a spatula. Bake for 25 – 30 minutes or until a toothpick inserted in the middle doesn't come out gooey. It might still be sticky – just not have raw batter on it. Oven temperatures vary so check your brownie and be sure to not overcook. Store in an airtight container for up to 2 days at room temperature or up to one week in the refrigerator. I recommend storing them in the refrigerator right from the beginning due to their high moisture content.