Recipe
Whether you're hosting a St. Patty's Day party or attending someone else's get-together, you're going to want to make a festive appetizer. The best appetizers for this holiday are green, considering green is the primary colour associated with Ireland. These pinwheels are made with spinach tortillas and have green ingredients in the filling which makes them perfect for the occasion. For convenience they can be made ahead and then cut into rounds for serving. These are easy, delicious and festive!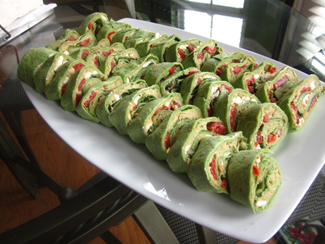 St. Patrick's Day Pinwheels
• 4 oz cream cheese
• 1 cup shredded cheddar cheese
• ½ can diced green chillies (in Mexican section of store)
• ½ cup sliced green onions
• ½ cup chopped red pepper
• ½ cup chopped green olives
• 4 large spinach tortillas
• 1 cup salsa for dipping
Combine cream cheese, cheddar cheese, chillies, green onions, red pepper and olives. Divide and spread cheese mixture over each tortilla. Tightly roll up each tortilla and wrap in plastic wrap. Refrigerate. When ready to serve, remove plastic wrap and with a serrated knife, cut into ½ inch rounds. Serve with salsa for dipping.