Recipe
In last week's column I shared a recipe with you for WOW Brownies; one of the best brownies I've ever tasted! This week's cheesecake recipe uses that brownie as its base, but I'm sure if you have a favourite brownie recipe, it can be also used. I'll be honest and tell you that I haven't tried this recipe but it comes highly recommended by our favourite office baker and she knows her desserts!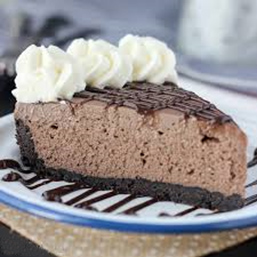 No Bake Brownie Cheesecake
• ½ WOW Brownie recipe
( last week's column)
• 16 oz cream cheese
(2 boxes) ,room temperature
• ½ cup of sugar
• 2 tsp vanilla
• 1 cup of whipping cream
• 1 ½ cups chocolate, semi-sweet or dark
To make the brownie base, make a ½ recipe of the Wow Brownie recipe from last week's column (or your favourite brownie recipe). That will give you a thick enough layer for your cheesecake. Pour into a buttered 9 inch spring form pan. Bake at 350 degrees for approximately 35-40 minutes or until firm to touch. Set aside to cool slightly.
For the cheesecake filling, melt the chocolate in the microwave or in a double boiler and set aside to cool. Beat the cream cheese, sugar and vanilla with a mixer on medium speed until there aren't any lumps. Gradually add in the cream and continue whipping until really thick. Add in the chocolate and mix. Spoon into your prepared tin on top of the brownie. Refrigerate until firm. This will take around 4 hours. You can decorate it with a chocolate ganache or with whipped cream if desired.