Recipe
Our favourite office baker did it again! She brought these brownies into work and we all couldn't get enough of them. We decided their original name had to be changed, because every time someone took a bite of these brownies they exclaimed "wow!" This recipe can also be used as a base for a no bake cheesecake recipe that will be in the column next week. If you are looking to impress a chocolate lover, this brownie recipe will do that.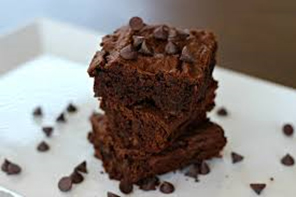 WOW Brownies
• 1 cup of butter, melted and cooled
• 2 tbsp vegetable oil
• 1 cup plus 2 tbsps of brown sugar
• 1 cup plus 2 tbsps of white sugar
• 4 large eggs, room temperature
• 4 tsps vanilla extract
• 1 cup all-purpose flour
• 1 cup cocoa powder
• 1 tsp salt
• 1 ½ cups of chocolate chips
Preheat oven to 350 degrees and line a baking dish with parchment paper or grease and flour the dish. In a large bowl combine melted butter, oil and both sugars. Add the eggs, vanilla and salt and whisk for one minute until combined. Over the same bowl sift in the flour and cocoa powder. Gently fold the dry ingredients into the wet ingredients until JUST combined. Don't over mix. Fold in half the chocolate chips. Pour batter into the prepared pan, and smooth the top. Generously top with the remaining chocolate chips. Bake for 35-40 minutes or until the centre of the brownie no longer jiggles and is JUST set to the touch. Remove from the oven and allow to cool to room temperature before removing from the baking dish. Slice into 16 brownies. Store at room temperature or can be frozen.