Recipe
This salad is meant to be made ahead of time which is perfect for the holidays, potlucks or dinner parties, because you aren't rushing around to make it at the last minute. It's full of flavour, and because you make it earlier in the day, the flavours have time to blend together and create a delicious, creamy salad. I have added this to my Easter menu.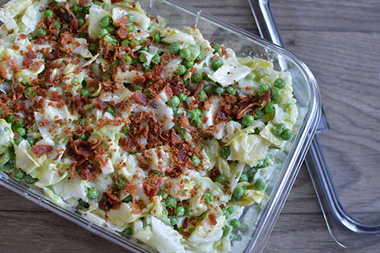 Make Ahead Salad
• 1 head of iceberg lettuce
• 1/2 package of frozen peas
• 1 package of sliced swiss cheese
• 3 stalks of green onion
• Bacon bits for the top
Dressing
• 1/2 cup mayonnaise
• 1/2 cup miracle whip
• 2 tablespoons sugar
• salt & pepper to taste
Cut your swiss cheese into small pieces and add to a big bowl. Put the peas into a strainer and run warm water over top to thaw them out. Drain and add to the bowl with the cheese. Dice up your green onion as well into small pieces and add to the others in the bowl. Cut up your head of lettuce. The best way to go about this is to hit the stem of the head on the counter top a few times, pushing it into the head of lettuce. This will release it from the lettuce. Throw it away. Next, slice all the lettuce into thin sections. Turn those sideways and do the same thing the other way, creating small lettuce squares. Rinse and dry or use a salad spinner. Add to bowl. To make the dressing, combine all the ingredients in a small bowl and stir until well combined. Add dressing to the top of the salad, and stir everything really well until the salad is completely covered. Put salad into a container with an air tight lid and put it into the fridge to settle. Keep refrigerated until ready to serve. When you are ready to eat, toss salad and top with bacon bits and serve. Store remaining salad in the container in the fridge for up to 48 hours.