Recipe
If you love Mexican food and easy meals, then this casserole is for you. Serve with a salad and you have a meal!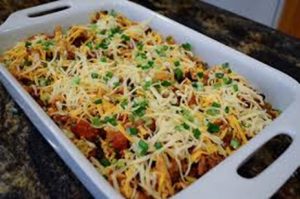 Ingredients
• 1 pound lean ground beef
• 1/2 cup chopped onion
• ¾ cup of water
• 1 (1.25 ounce) package taco seasoning mix
• 8 ounces macaroni ( 2 cups)
• 1 (10.75 ounce) can condensed tomato soup
• 1 small jar of salsa
• 2 cups of shredded cheese, divided (Mexican blend is good)
• 1 cup crushed tortilla chips
• 1/2 cup sour cream (optional)
• 1/4 cup chopped green onions
Preheat oven to 350 degrees F (175 degrees C).Cook pasta in a large pot of boiling water until al dente. Drain. In a large skillet, cook and stir ground beef and chopped onion over medium heat until brown (drain off the fat); add in the taco seasoning mix and water; stir and bring to a boil, turn down heat and allow to simmer. Add in the soup, salsa and pasta; mix well. Stir in 1 cup of cheese. Spoon beef mixture into a 9×13 inch baking dish and top with remaining 1 cup of cheese. Bake for 15- 20 minutes, until the cheese is melted and casserole is heated through. For serving, top with chopped green onions, crushed tortilla chips and sour cream, if desired.