Recipe
This is another recipe that has been floating around on the internet that I thought I would try. I was impressed, and concluded that the recipe was worth sharing. The original recipe called for more brown sugar in the sauce but I personally think barbecue sauce is already sweet enough, so I cut the sugar back to 2 tbsp.; feel free to adjust it to your liking. These are very comparable to boneless chicken wings available at restaurants, but are baked and much healthier. I like my tenders/wings saucy so I dipped each tender right into the sauce. I didn't have quite enough sauce so therefore I will double it next time. Be sure to use Panko bread crumbs; they make these extra crunchy on the outside, while the inside remains moist. These are delicious dipped into ranch or blue cheese dressing.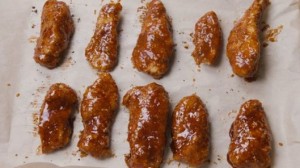 Saucy Chicken Tenders
• 1 c. all-purpose flour
• 2 lb. chicken tenders ( I used 3 boneless, skinless chicken
breasts, cut into tenders)
• 2 c. panko breadcrumbs
• 3 large eggs, beaten
• kosher salt
• Freshly ground black pepper
• 1 c. barbecue sauce
• 2 tbsp brown sugar
• Juice of ½ a lime
• 1 tsp. garlic powder
• Ranch or blue cheese dressing, for dipping (optional)
Preheat oven to 425 degrees F. In a large resealable Ziploc bag, combine flour and chicken. Shake until fully coated. Set up a dredging station: In one bowl, add panko breadcrumbs and in another bowl whisk eggs and add 2 tablespoons water. Dip chicken in beaten eggs, then panko until fully coated. Transfer to a parchment-lined baking sheet and season generously with salt and pepper. Bake until golden and crispy, 20 to 25 minutes. Meanwhile, in a small saucepan over low heat, warm barbecue sauce, brown sugar, lime juice, and garlic powder. Coat baked chicken in sauce and serve with ranch, if desired.