Recipe
This Slow Cooker Meatballs & Marinara recipe is a great one to prep in the morning and come home to after work, or to cook overnight and then reheat for dinner. The meatballs stay really moist and tender, and the sauce soaks up a lot of the meaty flavour when cooking all day. The meatballs are delicious served over pasta, on rolls as meatball subs, or just on their own as a meaty, saucy main course.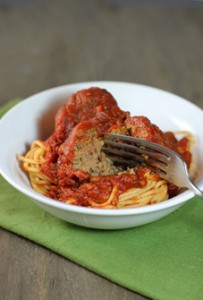 Slow Cooker Meatballs & Marinara
Yield: 8 servings (2 meatballs & 1/3 cup sauce)
• ½ cup plain bread crumbs
• ¼ cup grated Parmesan cheese
• 1 tablespoon Italian seasoning
• ½ teaspoon garlic powder
• 2 eggs
• ¼ cup milk
• 1 lb lean ground beef
• 1 teaspoon olive oil
• 1 small onion, diced
• 2 garlic cloves, minced
• 28 oz can crushed tomatoes
• 8 oz can tomato sauce
• 6 oz can tomato paste
• 2 tablespoons chopped fresh basil or 2 teaspoons of dried basil
• 2 teaspoons Italian seasoning
• 1 teaspoon salt
• 1 teaspoon sugar
• 1 bay leaf
In a large bowl, combine the bread crumbs, Parmesan, a tablespoon of the Italian seasoning, garlic powder, eggs and milk and stir until well combined. Add the ground beef, mix together with a spoon or your hands until thoroughly combined. Separate the meat mixture into 16 even pieces and roll each into a ball. Mist a large skillet with cooking spray and heat over medium heat. Place the prepared meatballs in the pan and brown the outsides (about 2 minutes on each side). Do not cook through. When the outsides are browned transfer the meatballs to your slow cooker. In the same skillet, bring the teaspoon of olive oil over medium heat. Add the diced onion and cook for 4-5 minutes until the onions are translucent and a bit golden. Add the minced garlic and cook for another minute until fragrant. Transfer the onion & garlic to a large mixing bowl. Add the crushed tomatoes, tomato sauce, tomato paste, basil, 2 teaspoons of Italian seasoning, salt, sugar and the bay leaf to the onions and garlic in the bowl. Stir to combine and then pour over the meatballs in your slow cooker. Stir to cover/coat the meatballs. Cook meatballs on low for around 6- 8 hours. Don't overcook or meatballs will fall apart. Remove the bay leaf before serving. Serve meatballs and sauce over pasta.