Recipe
I haven't personally made this recipe but it was given to me by a friend who said they really enjoyed it, and thought it would be a great recipe for my column. I love cabbage rolls and can't wait to try it. It's so much quicker than rolling up individual rolls and equally delicious.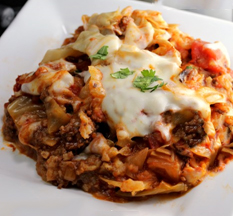 Crock Pot Cabbage Roll Casserole
• 1 1/2 lbs lean ground beef or pork
(or a mixture of the two)
• 3 cloves garlic , minced
• 1 onion, diced
• 1 (15 oz) can tomato sauce, divided
• 1 cup water
• 1 can condensed tomato soup
• 1 (28 oz) can diced tomatoes, undrained
• Salt and pepper to taste
• 1 teaspoon paprika
• 1 teaspoon thyme
• 3/4 cup long grain white rice, uncooked
• 1 head cabbage
• 1/3 cup water
• 1 1/2 cups mozzarella cheese (optional).
In a skillet, brown beef or pork, onion, garlic and seasonings over medium heat until no pink remains. Drain .Add 1 cup tomato sauce, 1 cup water and 1/2 can of tomato soup and diced tomatoes to the beef. Stir in rice, and mix well until heated through. Remove from heat. Chop cabbage into 4 wedges and remove core. Chop into chunks (about 3/4″ x 1.5″). Layer 1/2 of the meat mixture and 1/2 of the cabbage in the slow cooker. Repeat layers, placing half the meat and then half the cabbage in cooker. Combine the remaining tomato soup, remaining tomato sauce and 1/3 cup water. Pour over top of cabbage. Cook on low 4-6 hours or just until rice is cooked. Once done, turn slow cooker off, sprinkle cheese on top and let sit 10 minutes to set and melt cheese.