Recipe
I feel like I've seen a million different recipes for this casserole; everyone likes to change it up a little bit. I have a couple different variations myself, but this one is definitely my favourite. My kids love these potatoes and I try and make them when they are home to serve at breakfast. This is an easy casserole to prepare and take to various gatherings, and why they are also referred to as funeral potatoes.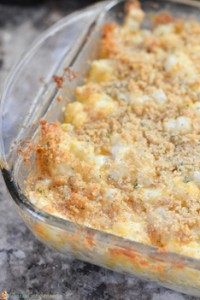 Hash Brown Casserole (aka, Funeral Potatoes)
• 1 – 8 ounce container sour cream
• 1 can cream of mushroom or chicken soup
• ½ cup butter, melted
• Two pound package frozen, diced hash browns (thawed)
• 1 1/2 cup cheddar or monterrey jack shredded cheese
• ½ cup chopped onions
• ¼ teaspoon salt
• ¼ teaspoon pepper
• ½ cup bread crumbs
• ¼ cup melted butter
Preheat oven to 350 degrees F. Combine sour cream, soup, and melted butter in a large bowl. Add hash browns, 1 cup of grated cheese, and chopped onions. Stir well. Add a shake of salt and pepper. Pour into a 9×13 pan. Mix the ¼ cup of melted butter with breadcrumbs. Cover casserole with the buttered bread crumbs and sprinkle with the ½ cup of cheese. Cover and bake for 45 minutes. You can uncover for the last 15 minutes if you want the top browned.