Recipe
I love mushrooms and I love Bruschetta, combine the two and I'm a happy girl. My friend made these for our mutual friend's Birthday party and we gobbled them up. They were so tasty that I have made them twice since. This is the original recipe as found. I have to confess that I cheat; I put the filling in immediately and grill it all together from the start. I use feta cheese and diced onion as opposed to garlic, due to personal preference, but feel free to make the bruschetta filling anyway you usually enjoy it.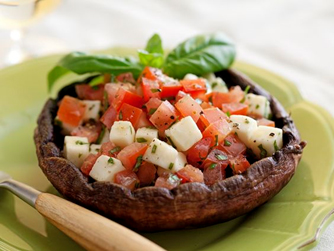 Grilled Bruschetta Portobello Mushrooms
• 3 tablespoons olive oil, plus extra for greasing grill pan
• 4 large Portobello mushrooms (about 5 inches in diameter),
stemmed
• Salt and freshly ground black pepper
• 3 tablespoons extra-virgin olive oil, plus extra for drizzling
• 1 clove of garlic, minced or finely diced sweet onion
• Splash of balsamic vinegar
• 3 small to medium sized vine ripened tomatoes, cut into
1/2-inch pieces
• 8 oz diced feta or mozzarella cheese
• 1/4 cup chopped fresh basil leaves
Prepare the barbecue (medium-high heat). Using a spoon, scoop out the gills of the mushroom caps and remove the stems and discard. Drizzle 3 tablespoons of olive oil over both sides of the mushrooms. Sprinkle the mushrooms with salt and pepper. Drizzle olive oil on grill pan to prevent mushrooms from sticking. Grill until the mushrooms are heated through and tender, about 5 minutes per side. Meanwhile, whisk the extra-virgin olive oil and garlic in a medium bowl to blend. Add the tomatoes, cheese, and basil and toss to coat. Season with salt and pepper. Divide the tomato and cheese mixture into each cap, cover and grill for about 3 minutes or until cheese has melted.