Recipe
It's blueberry season in the North and these muffins are a delicious way to use them. The secret to the flavour is the sour cream. Not only are they moist and flavourful, they also come out of the oven looking pretty. You can sprinkle a little sugar on top before baking for an extra crunch or add a streusel topping. This recipe makes 24 muffins but can be cut in half. Be sure to follow the mixing directions as written to get the right texture and don't over mix.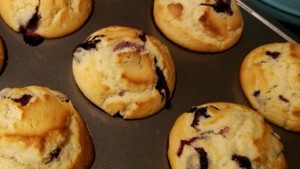 Blueberry Cream Muffins
• 4 eggs
• 1 ¼ cup granulated (white sugar)
• 1 ¼ cup brown sugar
• Pinch of nutmeg
• 1 ½ teaspoons of cinnamon (optional)
• 1 cup vegetable oil
• 1 teaspoon vanilla extract
• 4 cups all-purpose flour
• 1 teaspoon salt
• 1 teaspoon baking soda
• 2 cups sour cream
• 3 cups blueberries
Preheat oven to 400 degrees F (200 degrees C). Grease 24 muffin cups or line with paper muffin liners. In large bowl beat eggs, gradually add sugars while beating. Continue beating while slowly pouring in oil. Stir in vanilla. In a separate bowl, stir together flour, nutmeg, cinnamon, salt and baking soda. Stir dry ingredients into egg mixture alternately with sour cream. Gently fold in blueberries. Scoop batter into prepared muffin cups. Bake in preheated oven for 20 minutes.