Recipe
The following is a copycat recipe from a famous food chain. I can't say where but after you taste it you will know. It's a delicious mix of creamy, tangy and sweet. I like to make it and have it on hand for quick meals.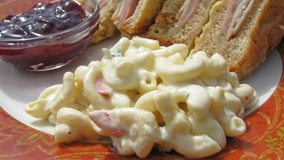 Copycat Macaroni Salad
• 7 ounces elbow macaroni, cooked
• 2 celery ribs, minced
• 1/4 cup thinly diced carrots (very thin!)
• 1 tablespoon instant minced onion
• 1⁄3 cup sweet pickle, diced fine
• 1 1⁄2 cups Miracle Whip
• 1⁄2 cup Mayonnaise
• 1⁄4 teaspoon black pepper
• 1⁄4 teaspoon dry mustard
• 1 teaspoon sugar
• Salt
Combine everything just as listed. Refrigerate salad tightly covered several hours before serving.