Recipe
Thank you to one of our customers for sharing this recipe with us. She makes the following cake at Christmas to give as gifts and said everyone loves it. It seemed appropriate to share it now with apple season coming upon us.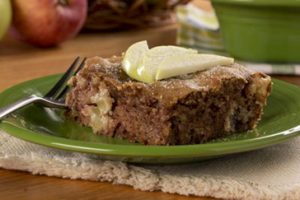 Mississippi Apple Cake
• 1 cup butter
• 2 cups white sugar
• 2 large eggs
• 2 ½ cups flour
• 2 tsp baking powder
• 1 tsp baking soda
• 1/8 tsp salt
• 2 tsp cinnamon
• 3 cups finely chopped apples
• 1 cup chopped walnuts
• 2-3 tbsp milk
Glaze
• ¾ cup sugar
• ½ cup butter
• ¼ cup buttermilk or milk
• 1 tbsp corn syrup
• ¼ tsp baking soda
• 1 tsp vanilla extractGrease and flour a 9 x 13 pan. In a large bowl or stand mixer cream the butter with the sugar. Add in the eggs and mix. In a separate bowl combine the flour, baking powder, baking soda, salt and cinnamon. Add the dry ingredients to the butter mixture and mix well. Fold in the apples, walnuts and enough milk to make the right cake-like consistency. Spread the apple cake batter evenly in the prepared pan. Bake at 350 degrees for 50-60 minutes or until a tester inserted comes out clean. While cake is baking, combine all the glaze ingredients in a medium pan, except the vanilla. Stir and cook to a rolling boil. Remove from heat and add the vanilla. Pour and spread glaze over hot cake as soon as it is removed from the oven. Let cake cool completely before serving. The longer it sits, the better it gets.
• Buttermilk substitutes- for each cup of buttermilk, you can use 1 tablespoon of white vinegar or lemon juice plus enough milk to measure 1 cup. Stir, then let stand for 5 minutes. Or, you can use 1 cup of plain yogurt.