Recipe
This is a quick and simple way to bake flavourful shrimp with little fuss. We made it this past weekend to serve alongside steak and I loved how easy it was to make and just throw in the oven. Dipping crusty bread into the garlic butter is an added bonus. It also makes a quick, delicious dinner when served over pasta.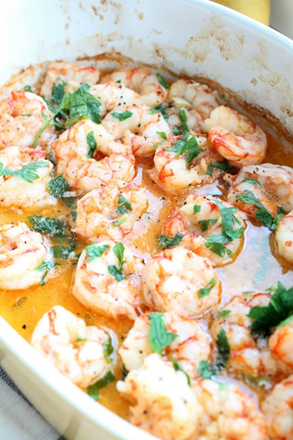 Baked Butter Garlic Shrimp
• 1 lb raw shrimp, peeled and cleaned
• 5 tbsp softened butter
• 3-4 large cloves garlic, crushed
• salt and fresh ground pepper
• fresh or dried parsley for garnish
• lemon wedges, for serving, if desired
Preheat oven to 425 degrees. Smear butter evenly over the bottom of the baking dish. Sprinkle the crushed garlic over the butter. Add the shrimp, trying not to overlap if possible. Sprinkle everything with salt and pepper. Bake for 7 minutes and then stir/turn the shrimp and bake for 7-10 more minutes, or until shrimp is done. Garnish with parsley and squeeze a lemon wedge over it, if desired. Serve as a side with steak, or toss the cooked shrimp and butter sauce with pasta. If you do this, cook the pasta while the shrimp is cooking for a quick meal.