Recipe
These are terrific muffins! They're moist, tasty and smell wonderful while baking. These are great to make when you need a large batch of muffins to take to a meeting, serve at a brunch, feed your weekend company or to just have on hand for your family.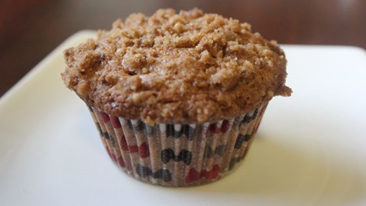 Apple Pie Muffins (makes approximately 20)
• 2 ½ cups flour
• 1 ½ cup brown sugar
• 2/3 cup vegetable oil
• 1 egg
• 1 cup buttermilk or sour milk
(1 cup milk with 1 tbsp vinegar)
• 1 tsp soda
• 1 tsp salt
• 1 tsp vanilla
• 2 cups diced, peeled apple
• ½ cup pecans (optional)
Topping
• ½ cup brown sugar
• 6 tbsp flour
• ¼ cup butter
• 1 tsp cinnamon
Preheat oven to 350 degrees. Prepare topping by combining the brown sugar, flour and cinnamon. Cut in the butter until you have a crumb like mixture.
In a large bowl combine the brown sugar, oil and egg. Whisk together the buttermilk, soda, salt and vanilla together in a small bowl or measuring cup. Alternating with the buttermilk mixture; blend the flour into the sugar, oil and egg. Don't over mix. Fold in the apples (and pecans if using). Place batter in lined or greased muffin tins and sprinkle with topping. Bake for 20 minutes.