Recipe
As I write this column, I am enjoying one of these tasty muffins with my coffee. They definitely pair well with a hot cup of coffee or tea; or a big glass of cold milk. They have a delicious, delicate, apple cinnamon flavour and the cinnamon sugar topping makes them extra special. They are easy to make and a handy recipe to have on hand for a breakfast or a brunch. As always for muffins, to keep them light and moist, don't overmix.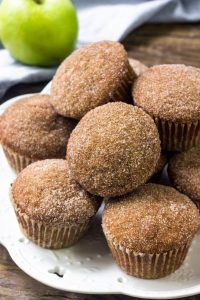 Applesauce Muffins
• 2 cups all-purpose flour
• 2 teaspoons ground cinnamon
• 1/4 teaspoon ground nutmeg
• 1 1/2 teaspoons baking powder
• 1/2 teaspoon baking soda
• 1/4 teaspoon salt
• 1/2 cup unsalted butter, melted
• 1/2 cup white sugar
• 1/4 cup brown sugar
• 2 teaspoons vanilla extract
• 2 large eggs
• 1 cup unsweetened applesauce
Cinnamon Sugar Topping
• 1/3 cup unsalted butter, melted
• 1/4 cup white sugar
• 1 teaspoon ground cinnamon
Preheat the oven to 375F degrees. Line a muffin pan with muffin papers. Sift together the flour, cinnamon, nutmeg, baking powder, baking soda and salt. In a large bowl whisk together the melted butter and sugars. Then whisk in the eggs, vanilla extract and applesauce. Whisk about ½ the flour mixture into the wet ingredients, then gently fold in the rest using the rubber spatula or wooden spoon. Spoon the batter into the prepared muffin tin. Bake for 17-22 minutes, or until the tops are slightly firm to touch and an inserted toothpick comes out clean. Cool for 10 minutes. In a small bowl whisk together the sugar and cinnamon. Dip the top of a warm muffin into the melted butter, shaking off the excess. Then dip the top in the bowl of cinnamon sugar. Repeat the process with the rest of the muffins. Store in an airtight container at room temperature.