Recipe
This arugula and nectarine salad with a fresh basil dressing is pretty to serve and delicious for summer or fall. My sister sent me this recipe and told me it's a "must try". Nectarines are in season right now and the garden is full of basil, so this is a perfect time to try this salad with its beautiful fall colours of green and orange. If you are not a fan of arugula, your favourite greens can be substituted.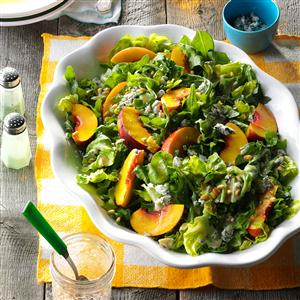 ARUGULA & NECTARINE SALAD
Yield: Makes approximately 6 servings
• 1 box (5 oz) arugula
• 2 ripe nectarines, thinly sliced
• 1/4 cup walnuts, roughly chopped
(toasted if you like)
• 1/4 cup feta cheese, crumbled
Ingredients for the dressing:
• 1/4 cup fresh basil leaves
• 3 tbsp extra virgin olive oil
• 1 tbsp balsamic vinegar
• 1/2 tsp maple syrup
• Freshly cracked black pepper, to taste
Add all of the ingredients for the dressing to a blender or food processor and blend until smooth. In a large bowl toss all ingredients together with desired amount of dressing.