Recipe
Several years ago I hosted a potluck, and a friend brought this delicious stuffed French bread. It was a nice addition; sliced up, and served for lunch. This is also a great dinner recipe for those busy weekdays. It can be conveniently made ahead, wrapped in foil, and then baked; or baked open on a cookie sheet as the recipe suggests. It was also suggested that Frank's hot sauce can be added for a Buffalo chicken flavour or you can change it up a bit with a sprinkle of garlic powder and a different type of cheese. Don't be afraid to adjust the filling to your taste.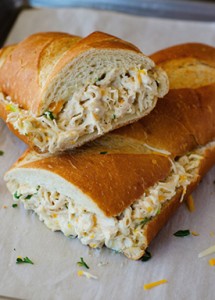 CHICKEN STUFFED FRENCH BREAD
• 1 loaf french bread
• 1 pound chicken breasts, cooked and shredded
• 1 1/2 cups Colby-Jack cheese, shredded
• 2 green onions, sliced thin
• 1 to 2 cups Ranch dressing
Preheat oven to 375° F. Line a large baking sheet with parchment or foil. Slice the French bread in half, lengthwise, so you have two equal pieces. Scoop out some the bread in the center of each piece to make room for the filling. Place bread in a large bowl and tear into small chunks. Set the two halves of French bread onto a large baking sheet. Set aside. In the large bowl with the pieces of bread ,add the shredded chicken, cheese, green onions and enough ranch dressing to make mixture wet. Spread chicken mixture evenly over one half of bread. Top with other half. Bake 10 to 15 minutes or until cheese is melted. Remove from oven and let stand 5 minutes before slicing and serving. Enjoy!