Recipe
If there's one thing that goes well with most favourite summertime mains, it's pasta salad! You seriously can't go wrong. A pasta salad is customizable, and easily scaled depending on how many people you are serving; it's the perfect party food. We had the following salad at a Birthday party last weekend and it was a crowd-pleaser. The tortellini holds up really well with all the veggies, cheddar cheese, and bacon. Fresh ranch dressing from the produce section will make this salad extra special. You can add more dressing before serving if you like creamier.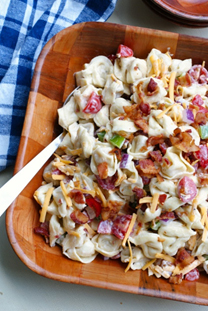 Bacon Ranch Tortellini Salad
• 1 (20 ounce) pkg. refrigerated tortellini
• 10 slices bacon
• ¼ cup red onion, diced
• 1/2 cup grape tomatoes, quartered
• 1/2 cup cheddar cheese, shredded
• 1/4 cup green bell pepper, diced
• 3/4 cup ranch dressing
Cook the tortellini according to the package directions. Drain and cool in an ice bath. Drain again and refrigerate while preparing the bacon and vegetables. Heat a large skillet over medium-high heat. Cook the bacon until crisp, drain grease, and then roughly chop. Set aside 1/4 cup of bacon to use as a garnish. In a large bowl, toss the cooled tortellini, crumbled bacon, tomatoes, cheddar cheese, red onion, and green pepper with the Ranch Dressing. Garnish with the reserved crumbled bacon and serve immediately.