Recipe
Hi, my friends. I owe an apology to anyone who attempted to make the Butter Tart Pan Square from the March 31, 2020 paper. It was brought to our attention that the 3 tbsp of baking powder is an error and will result in a mess in your oven. The recipe had come from an old community cookbook and my only guess is that maybe baking powder wasn't as effective back then?? I don't know, but I'm sorry for any inconvenience. After testing it myself and hearing from others, we have concluded you only need 1 tbsp of baking powder; and then it's really quite delicious. If you have cut out the recipe but haven't made it yet, please make the correction.
The recipe this week is another great way to use up ripe bananas. They are a soft, moist cookie that my daughter says taste like the top off of a banana chocolate chip muffin. I mashed up two bananas which resulted in more than ½ cup; I thought I'd add it anyway, but it made the batter too thin. Adding extra flour worked, but it's easier to just add the ½ cup and discard the rest. Or you can make a double batch.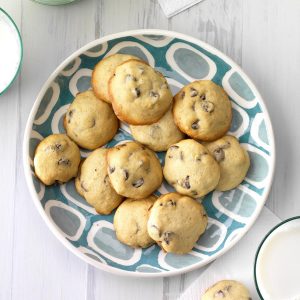 Banana Chocolate Chip Cookies (makes 24 cookies)
• 1/3 cup butter, softened
• ½ cup of sugar
• 1 large egg, beaten
• ½ cup of mashed banana
• ½ tsp of vanilla extract
• 1 ¼ cups of flour
• ¼ tsp salt
• 1 tsp baking powder
• 1/8 tsp baking soda
• 1 cup chocolate chips (I used mini ones)
Preheat oven to 350 degrees. Grease or line cookie sheets with parchment paper. In a bowl, cream the butter and sugar together. Add the egg, mashed banana and vanilla extract; mix well. In a separate bowl whisk together the flour, salt, baking powder, and baking soda. Add the banana mixture into the flour mixture and mix well. Drop by rounded tablespoons onto cookie sheets. Bake 13- 16 minutes or until lightly browned around the edges.