Recipe
Scalloped Potatoes are a classic dish with layers of potatoes, onion and a rich, creamy sauce. It's a great side dish to make for holiday dinners. I made it last week for Easter dinner because I love it with ham, but it's good at any time. The ingredients are simple, and the procedure is easy. Be sure to cut your potatoes thin and uniform so that they cook evenly. Sometimes the sauce has cheese, sometimes it doesn't. This is my favourite recipe using cheese.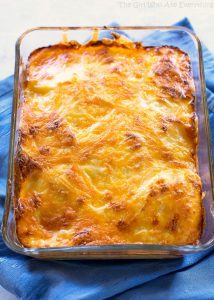 Scalloped Potatoes
• 4 cups thinly sliced potatoes (Yukon Gold or Russet, about 2 lbs)
• 1 small onion. thinly sliced
• 3 tablespoons butter
• 3 tablespoons flour
• 1 1/2 cups milk
• 1 teaspoon salt
• 1 dash cayenne pepper
• 1 1/2 cups grated cheddar cheese, divided
Preheat oven to 350 degrees. Grease a 1.5-quart baking dish (8×8 or 9×9 inch baking dish will work). If you are doubling the recipe for a larger group, use a 9 x 13 dish. In a small saucepan, melt butter and stir in flour, whisk in the milk and season with salt and cayenne.
Cook sauce on low until smooth and boiling, stirring with a whisk. Reduce heat and stir in 1 cup of the cheddar cheese until melted. Set off of heat. Place a half of the sliced potatoes mixed with half of the sliced onions in the baking dish. Pour half of cheese sauce over potatoes. Repeat with second layer of potatoes, onion and cheese sauce. Sprinkle the remaining 1/2 cup of cheddar cheese on top. Bake uncovered for about 1 hour at 350°F or longer until the potatoes are fork tender.