Recipe
Apple Crisp is a favourite fall dessert, and a recipe most people have on hand. This apple crisp with thinly sliced Granny Smith apples baked with a cinnamon glaze and a delicious oat/crumb topping is one of the best you'll ever taste. It's easy to put this dessert together and delicious to make with those beautiful apples that are in season. This is a great dessert recipe for upcoming Thanksgiving dinner.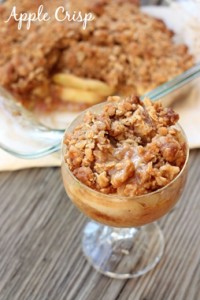 Best Apple Crisp
For the crumb topping:
• 1/2 cup flour
• 1/2 cup old fashioned oats
• 1/2 cup brown sugar
• 1/2 tsp baking powder
• 1/4 tsp ground cinnamon
• dash of salt
• 1/3 cup unsalted butter, diced into small chunks
For the Apple filling:
• 3-4 large Granny Smith
apples, peeled and sliced thin
• 3 Tbsp butter, melted
• 2 Tbsp flour
• 1 Tbsp lemon juice
• 3 Tbsp milk
• 1/2 tsp vanilla extract
• 1/4 cup brown sugar
• 1/2 tsp ground cinnamon
• dash of salt
Preheat oven to 375 degrees F. In a medium size bowl combine the crumb topping ingredients with a fork or pastry blender until it resembles small crumbs. Refrigerate while you prepare the apple filling. For the Apple Filling: In a small bowl, combine melted butter and flour until well blended. Add lemon juice, milk and vanilla and stir well. Stir in brown sugar, cinnamon, and salt. Pour butter mixture over apples and toss to coat. Pour apple mixture into an 8×8-inch baking dish and spread into an even layer. Sprinkle crumb topping evenly over the apples. Bake for 30-35 minutes or until golden brown and top is set. Remove from oven and allow to cool for at least 10 minutes before serving. Serve with vanilla ice cream or whipped cream.
Note: To make this recipe ahead of time: Make the apple filling, adding a tiny bit more lemon juice so the apples don't brown. Store the apple filling in an air-tight container, in the fridge, for up to one day. Make the crumble topping and put it in a separate ziplock bag, in the fridge. When ready to bake, remove from the fridge, and sprinkle the topping on top. Bake as directed.