Recipe
Use a leftover ham bone to make this creamy, satisfying, and very wholesome soup. Cooking it low and slow is the best method for creating creamy, delicious split pea soup. It all starts with a 16 ounce bag of green split peas which are rich in soluble fiber keeping cholesterol and blood sugar levels in check. They are high in protein and low in fat, and make us feel full for a long time. Be sure to rinse and pick through the peas to remove any small pebbles or debris that commonly get mixed into the bag.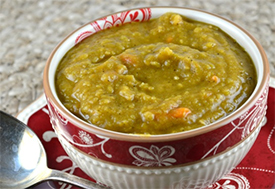 Slow Cooker Split Pea Soup
Servings: 6 to 8 servings
Ingredients
• 1 (16 ounce bag) green split peas, rinsed well and drained
• 2 carrots, peeled and chopped small
• 2 ribs celery, chopped small
• 1/2 cup finely chopped white or yellow onion
• 1 tablespoon minced garlic
• 1/3 cup chopped fresh Italian (flat leaf) parsley
• 1 tablespoon chopped fresh thyme
• 1 bay leaf
• 1 teaspoon salt, plus additional as needed
• Fresh ground pepper, to taste
• 1 meaty ham bone
• 6 cups low-sodium chicken broth (or more, as needed), divided
Layer the ingredients, around the ham bone, in a slow cooker in the order listed. Add about 4 to 5 cups of chicken broth, just enough to cover ingredients. Reserve remaining chicken broth for later. Cover and cook on HIGH for 7 to 8 hours. Stir occasionally during cooking time. When peas are tender, remove ham bone to a cutting board. Pull off and tear the ham into small pieces and return it to the slow cooker. Discard ham bone and bay leaf. Use a spoon to lightly mash some of the peas against the side of the slow cooker and stir until nice and creamy, adding more broth, if needed, to reach desired consistency. Taste and season with additional salt and pepper, as needed.
This soup freezes exceptionally well. Freeze cooled soup in freezer containers. Thaw overnight in the refrigerator and then reheat in microwave or in a saucepan on the stove. When reheating, thin with a little water or chicken broth, if desired.