Recipe
It's blueberry season in Northern Ontario! Research suggests that wild blueberries are a legit super fruit; the skins having high concentrations of antioxidants. So they are not only delicious, but are healthy little gems growing in our forested areas, fields and road sides. The following is a recipe I've had for years and is always great to make when fresh blueberries are available but also can be made with frozen blueberries. It's perfect served with coffee, tea or a big glass of milk.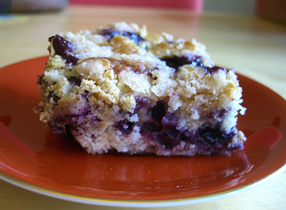 Blueberry Buckle
• ¼ cup of butter
• ½ cup of sugar
• 1 egg
• 1 cup of flour
• 1 ½ tsp baking powder
• ½ tsp salt
• 1/3 cup of milk
• 2 cups of blueberries
Topping:
• ½ cup of sugar
• 1/3 cup of flour
• ½ tsp cinnamon
• ¼ cup butter
To make the cake batter; cream butter and sugar, then add the egg and mix well. In a bowl mix the dry ingredients together. Add the dry ingredients to the butter mixture, alternating with the milk. Pour into an 8 inch greased pan. Spread blueberries over batter. In a small bowl mix the topping dry ingredients, then cut in the butter to resemble coarse crumbs. Sprinkle topping on top of blueberries. Bake at 350 degrees for 45 minutes.