Recipe
In my opinion, celery is an underrated vegetable, yet one of the most used in my house. I put it in almost everything I cook from spaghetti sauce to soups. I have a soft spot for it; when I was a kid my Grandma always had a heaping plate of cleaned celery sticks put out before family meals. I think of being at her house, every time I get a whiff of its distinctive smell. One of my favourite snacks is celery stuffed with Cheese Whiz or peanut butter, so when I came across this recipe, I thought what a great idea for an appetizer! If you don't feel like cooking bacon and want to keep it simple, there are bags of precooked bacon in the stores. You can use the recipe as a general guideline and switch it up to suit your taste. I think fresh dill and chopped olives would also be tasty.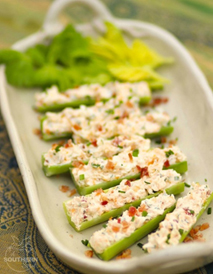 Stuffed Celery Stalks
• 4 – 5 stalks celery – washed and dried
• 1 8 oz cream cheese – softened
• 1/4 cup bacon – chopped
• 1/2 cup cheddar cheese – grated
• 1 tablespoon fresh parsley – chopped
• 1 tablespoon fresh chives – chopped
• 1/4 teaspoon salt
• 1/4 teaspoon fresh cracked pepper
• 3 dashes hot sauce
Cut celery stalks in half and set aside. Using a food processor or hand held mixer, whip the cream cheese until smooth. Add in bacon, cheese, parsley, chives, salt, pepper and hot sauce. Pulse or blend until all ingredients are combined. Using a small spoon, fill the celery "boat" with cream cheese mixture. Sprinkle with additional chives and bacon if desired. Serve immediately!