Recipe
This salad is fresh, simple, delicious and perfect for summer. I have put it in my column before but I'm repeating it because it's one of my favourites to make when the weather is hot, and I always get compliments whenever I make it. You can use any kind of noodle that you prefer, but I usually use mini shells because I like how the shape of the noodle holds the bruschetta, and you get a mouthful of flavour in every bite. Mini Bocconcini can also be added.
BRUSCHETTA PASTA SALAD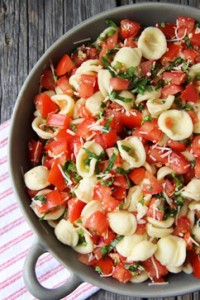 • 3 cups cooked pasta
• 5 tomatoes, chopped (I use vine ripened because they have the most flavour)
• 2 green onions, chopped
• 1 tbsp red onion, chopped finely
• 1-2 cloves garlic, minced
• 1 bunch basil, chopped
• 1 tbsp olive oil
• 2 – 4 tsp balsamic vinegar (to your taste)
• 1/3 cup shredded parmesan cheese
• salt & fresh ground pepper to taste
In a bowl, combine the tomatoes, onions, garlic, chopped basil, olive oil, balsamic vinegar and parmesan cheese. Let this mixture rest for at least 15 minutes. Then toss the tomato mixture with the cooked noodles. Season with salt and fresh ground pepper. You can serve and enjoy this recipe right away, or let it rest for up to an hour before serving.