Recipe
This is the banana version of the two classic recipes, "sex in a pan" and "lemon delight". I have a family of banana lovers, and I'm thinking this is a good recipe to make for upcoming Father's Day dinner. Having fresh bananas in it, it needs to be served the day it's made so that the bananas don't darken.
BANANA CREAM DELIGHT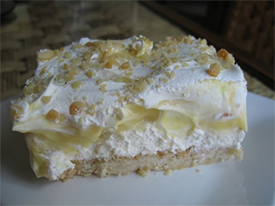 Crust:
• 2 cups flour
• 1 cup butter or margarine
• 1 cup macadamia nuts or pecans, chopped fine
Blend flour and butter with pastry blender. Mix in 3/4 cup of the nuts, reserving 1/4 cup to sprinkle. Press into 9×13-inch pan. Bake at 350 degrees for 20-25 minutes, or until golden brown. Cool.
Middle Layer:
• 1 package cream cheese (8-oz)
• 1 cup powdered sugar
• 1/2 container of Cool Whip (1 L)
• 5 bananas
Beat cream cheese and powdered sugar until blended and smooth. Fold in Cool Whip. Spread over cooled crust. Slice bananas evenly over cream cheese layer.
Top Layer:
• 2 packages instant vanilla pudding (3-oz each)
• 3 cups cold milk
• Remaining Cool Whip
Whip pudding with milk and spread over bananas. Be sure to seal all edges. Spread remaining Cool Whip on top. Sprinkle with reserved macadamia nuts or pecans. Refrigerate. Chill several hours to set before serving.