Recipe
I wanted to make a "healthier' than the classic, creamy, pasta salad for supper, and have leftovers in the fridge for my daughter's lunch. I did some searching and came across this recipe. I used whole wheat pasta because that's what we eat when my health conscious daughter is home and it really was delicious. The vinaigrette would also be amazing on a lettuce salad; the spice combination is perfect. You can substitute whatever short pasta or vegetables that you have on hand.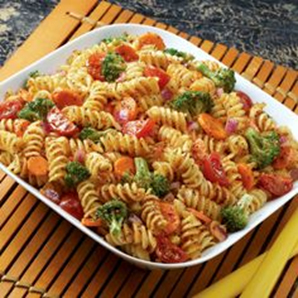 Pasta Salad Vinaigrette
Serves: Makes 6 (3/4-cup) servings.
• 8 ounces rotini
• 1/4 cup vegetable oil
• 1/4 cup white vinegar
• 1 1/2 teaspoons garlic powder
• 1 1/2 teaspoons salt
• 1 teaspoon black pepper, coarse ground
• 1 teaspoon Italian seasoning
• 1 teaspoon sugar
• 1/2 teaspoon onion powder
• 1/4 teaspoon basil leaves
• 1/4 teaspoon dill weed
• 1/2 cup diced red pepper
• 1/2 cup diced red or green onion
• 1/2 cup sliced cucumber
• 1/2 cup bite-size broccoli florets
• 1 cup of cherry tomatoes, halved
Cook pasta as directed on package. Rinse under cold water; drain well. Mix oil, vinegar and seasonings in small bowl with wire whisk until well blended. Toss pasta and vegetables in large bowl. Add dressing; toss gently. Cover. Refrigerate until ready to serve. Toss lightly before serving.