Recipe
This is my new favourite salad and I make it at least once a week. It's simple to make ahead, and keep in the fridge for lunches and as a side dish for dinner. It's also easy to transport to potlucks and barbecues. Quinoa is a grain that is nutrient rich with several health benefits; it's not only delicious as the main ingredient in this salad, but also a very healthy meal option. If you like Greek salad, you will like the flavours in this salad. Give it a try!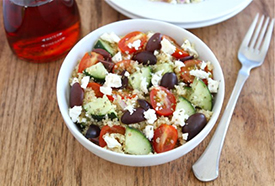 Greek Quinoa Salad
• 3 Tbsp freshly squeezed lemon juice
• 1 Tbsp red wine vinegar
• ¼ tsp dried oregano
• 1 clove garlic, minced
• kosher salt and freshly ground black pepper
• ¼ cup extra virgin olive oil
• 1 cup quinoa
• 2 cups red tomatoes, halved
• 1 cup pitted kalamata olives
• 2 green onions (green and pale green part), thinly sliced
• ½ English cucumber, cut into small dice
• ½- 1 cup feta crumbled
Whisk together the lemon juice, vinegar, oregano, garlic and some salt and pepper in a small bowl. Slowly whisk in the oil until emulsified. Let sit at room temperature while you prepare the salad to allow the flavors to meld. Rinse the quinoa in a strainer until the water runs clear. Combine the quinoa, 2 cups water, 1 teaspoon salt and 1/4 teaspoon pepper in a small saucepan, bring to a boil and then cover and simmer until the water is absorbed and the quinoa is tender, about 15 minutes. Transfer to a bowl, fluff with a fork and let sit for 5 minutes to cool slightly. Add the tomatoes, olives, green onions, cucumbers, and feta. Add dressing and toss to coat. Add more salt and pepper to taste. Cover and refrigerate for at least 1 hour and up to 8 hours before serving. The longer it sits the better the flavour.