Recipe
My rhubarb is up and ready to use, is yours? I have 4 large patches and these muffins are a great way to use some of those first tender stalks. I've been reading various baking tips and tricks recently, and found a couple of them really improved the end result when making these muffins. First, sifting flour a couple of times before measuring it will result in a very light muffin. Second, and just as important, remove muffins from the pan immediately when they come out of the oven, and cool them on racks. If muffins cool in the pan, the steam cannot escape, and it causes the muffin to become more dense and hard. Cooling them on racks prevents this. It makes a huge difference and is totally worth a couple burnt fingers.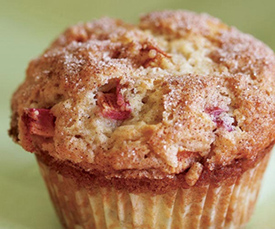 Rhubarb Sour Cream Muffins (Serves: 12)
• 2 cups all-purpose flour
• ¾ cup sugar
• 2-1/2 tsp. baking powder
• 1 tsp. cinnamon
• ½ tsp. baking soda
• ½ tsp. salt
• 1 cup sour cream
• 8 Tbs. unsalted butter, melted and cooled slightly
• 2 large eggs
• 1 tsp. vanilla extract
• 1½ cups finely diced rhubarb
Heat the oven to 400°F. Line a 12-cup muffin tin with baking cups. In a large mixing bowl, combine the flour, sugar, baking powder, cinnamon, baking soda, and salt and whisk to blend. In a medium bowl, whisk together the sour cream, melted butter, eggs, and vanilla until smooth. Lightly stir the sour cream mixture into the dry ingredients with a spatula until the batter just comes together; do not overmix. Gently stir in the diced rhubarb. The batter will be thick. Divide the batter among the muffin cups. Bake the muffins until they're golden brown, spring back most of the way when gently pressed, and a pick inserted in the center comes out clean, approximately 18 to 22 minutes.