Recipe
I have made this salad for supper several times now, and the flavours blend together deliciously. Cranberries and oranges were made to go together, and when you add in the creamy avocados, salty feta cheese and crunchy toasted almonds you have an incredibly tasty salad. The chicken makes this into a healthy meal, but it can also be made without the chicken as a side salad. I have also used different types of lettuce in this salad. A mix of baby greens and spinach is another great option. When time is short and I don't have time to make the dressing, I add in some chopped mandarin oranges to achieve the orange flavour, and then cheat a bit by using bottled balsamic fig dressing or poppy seed dressing. Any way you choose to make it; this is a great salad for the busy season ahead.
Cranberry Avocado Spinach Salad with Chicken and Orange Poppy Seed Dressing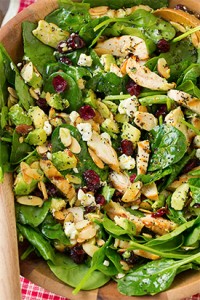 Dressing
• 1/4 cup olive oil
• 1/4 cup canola oil
• 2 tsp orange zest
• 1/4 cup fresh orange juice
• 2 Tbsp fresh lemon juice
• 2 Tbsp honey
• 2 tsp dijon mustard
• 1/4 tsp salt
• 1 Tbsp poppy seeds
Salad
• 1 lb chicken, grilled
• 9 oz baby spinach
• 2 medium avocados, cored and diced
• 1 cup crumbled feta
• 3/4 cup sliced almonds, toasted
• 3/4 cup dried cranberries
Add olive oil, canola oil, orange zest, orange juice, lemon juice, honey, dijon mustard and salt to a blender. Pulse until well emulsified. Pour into a jar and stir in poppy seeds.
Refrigerate until ready to use.
Add all salad ingredients to a large bowl. Pour dressing over top and toss to evenly coat. Serve immediately.