Recipe
I made this for supper the other night and it doesn't get any easier than this. Cut up your chicken and veggies, stir in the rest of the ingredients, and pop it into the oven. A one dish dinner without a huge clean up in the kitchen afterwards. I served it on whole wheat tortillas with Greek yogurt in place of sour cream, (it's a great alternative, try it), sliced avocado and tomatoes, shredded low fat cheese and salsa. It's a quick, healthy meal that the whole family will enjoy.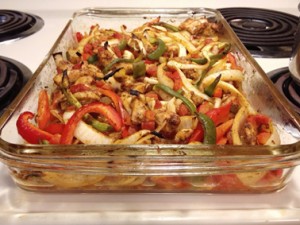 Oven Baked Chicken Fajitas
• 1 pound boneless, skinless chicken breasts, cut into strips
• 2 Tbsp extra virgin olive oil
• 2 tsp chili powder
• 2 tsp cumin
• ½ tsp garlic powder
• ½ tsp dried oregano
• ¼ tsp salt
• ½ can of Aylmer Accents Chili seasonings diced stewed tomatoes.
• 1 medium onion, sliced
• ½ large green bell pepper, seeded and sliced
• ½ large yellow bell pepper, seeded and sliced
• ½ large red bell pepper, seeded and sliced
Preheat the oven to 400 degrees. Slice chicken and veggies into strips. Place chicken strips in a greased 13×9 baking dish. In a small bowl combine the oil, chili powder, cumin, garlic powder, dried oregano, and salt. Drizzle the spice mixture over the chicken and stir to coat. Next add the tomatoes, peppers, and onions to the dish and stir to combine. Bake uncovered for 30-35 minutes or until chicken is cooked through and the vegetables are tender .Serve on tortillas with
desired toppings.