Recipe
It's always nice to dive into a dish that's loaded with irresistible, melted, gooey cheese and this casserole fits the bill. Baked ziti is a lot like lasagna, but it's quicker to make with fewer layers to fuss over, and is equally as good. Add some crusty bread and a side salad, and you have a delicious meal for your family or dinner guests.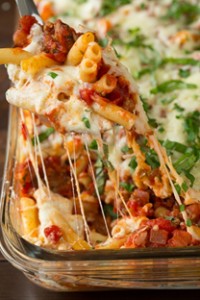 Baked Ziti
• 1 Tbsp olive oil
• 1 3/4 cup chopped yellow onions (1 medium onion)
• 1 lb. mild or hot italian sausage (depending on your taste preference)
• 3 cloves garlic, minced
• 1 (28 oz) can crushed tomatoes
• 1 (14.5 oz) can diced tomatoes
• 2 1/2 Tbsp tomato paste
• 1/3 cup slightly packed chopped fresh basil, plus more for topping
• 4 Tbsp chopped fresh parsley, divided
• Salt and freshly ground black pepper
• 1 (15 oz) container ricotta cheese
• 1 large egg
• 3 cups (12 oz) shredded mozzarella, divided
• 3/4 cup (3 oz) finely shredded parmesan, divided
•16 oz. dry ziti pasta
Preheat oven to 350 degrees. Bring a large pot of water to boil for the pasta. Heat olive oil in a large deep, skillet and add the onions. Sauté for 2 minutes, and then add the sausage. Cook the sausage, breaking it up with a spoon, until cooked through. Add in the garlic during the last minute of cooking. Drain off the excess fat. Stir in crushed tomatoes, diced tomatoes, tomato paste, basil, 2 Tbsp parsley and season with salt and pepper to taste. Bring mixture to a light boil, and then reduce heat to low and allow it to simmer for 15 minutes. Meanwhile, in a mixing bowl, using a fork, stir together the ricotta, egg, 2 Tbsp parsley and season with salt and pepper. Mix in 1 1/2 cups of the mozzarella and 1/2 cup of the parmesan, set aside. Boil pasta in salted water according to directions on package. Drain pasta reserving 1/4 cup of the pasta water. Return pasta to empty pot, immediately add reserved pasta water and 1 cup of the red sauce and toss pasta to coat. Spray a 13 by 9-inch baking dish with non-stick spray. Spread 1 1/3 cups of the red sauce evenly into bottom of dish and then spread 1/2 of the pasta over sauce. Dollop spoonfuls of ricotta mixture all over pasta and flatten slightly with a spoon. Top with remaining pasta. Spoon remaining sauce evenly over pasta layer. Sprinkle top with remaining 1 1/2 cups of the mozzarella and 1/4 cup parmesan. Tent baking dish with foil (don't let it touch the cheese or it will stick) and bake 15 minutes then uncover and bake 10 – 15 minutes longer until cheese is melted throughout. Serve warm.
*** To all of you who have meant to buy a Mother May I cookbook but never got around to it, or if you are looking for a perfect, little Mother's Day gift, I have ordered one last box of books. I want to take this opportunity to thank everyone who has purchased a cookbook, and for all the kind words and encouragement that I have received. It was a personal project, and I am touched by how supportive everyone has been.
Cookbooks are available until they run out at:
Around & About, Trail Side Sports and the Webbwood Public Library.