Recipe
Who doesn't love a warm apple crisp with a crunchy topping and vanilla ice cream melting overtop? But if you are trying to watch your calories and stick to a better way of eating you may avoid this kind of dessert. Typically fruit crisps are made with a lot of white, processed sugar but this recipe uses maple syrup which adds a delicious deep flavour to the dish. The coconut oil in the topping replaces the butter that you would typically find in a crisp recipe, and is a healthier alternative. Add a small amount of low fat, whipped topping for a little treat. This not only makes a healthier dessert option, but also a delicious breakfast.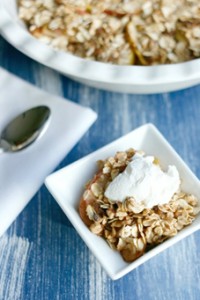 Healthy Apple Crisp
Yield: serves 4
• 4 cups apples, thinly sliced
(peeled or unpeeled if you
want extra fibre)
• 2 Tbsp maple syrup
(if you prefer it sweeter, you can
add more to your taste)
• 1/2 tsp cinnamon
For the Topping
• 1/2 cup old fashioned rolled oats
• 2 Tbsp whole wheat flour or Nutri flour blend
• 2 Tbsp coconut oil, melted
• 1 Tbsp maple syrup
• 1/2 tsp cinnamon
Preheat oven to 375F. Combine apples, maple syrup, and cinnamon in a pie plate or square baking dish. Mix well and set aside. In a bowl, combine oats, flour, coconut oil, maple syrup, and cinnamon. Top apple mixture with oat mixture. Bake for 25 – 30 minutes, or until apples are soft.
Nutritional Information: Cal: 230 Fat: 8.2g Protein: 2.6g Carbs: 40g Fiber: 5.3g Sodium: 1.8mg