Recipe
Our favourite office baker is sharing another "tested and approved" recipe with us. This is a simple to assemble, moist and delicious cake to make and serve to family or guests. It can be served warm or cold with a dollop of whipped cream or a scoop of vanilla ice cream.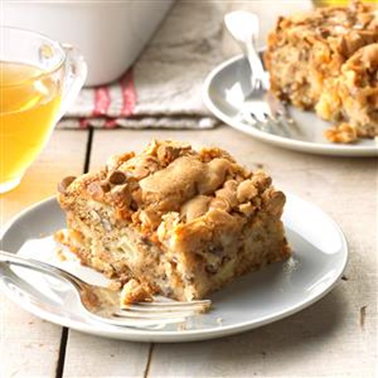 Caramel Apple Cake
• 3 eggs
• 1 ¼ cup vegetable oil
• 1 tsp vanilla
• 2 ½ cups flour
• 2 cups sugar
• 2 tsp baking powder
• 1 tsp salt
• 1 tsp baking soda
• 1 tsp cinnamon
• 4 medium tart apples, peeled and chopped (4 cups)
• 1 cup chopped pecans
• 1 package (11 oz) butterscotch chips
• Caramel sauce
Beat eggs, oil and vanilla together. Combine the next 6 ingredients and add to the egg mixture; mix well. Stir in the apples and pecans. The batter will be very thick. Put into an ungreased 9 x 13 baking pan. Sprinkle the top with the butterscotch chips. Bake at 325 degrees for 40 -45 minutes or until toothpick inserted comes out clean. (Check at 30 minutes). Cool in the pan. Drizzle with caramel sauce.