Recipe
If you've never heard of or made a dump cake, the ingredients are few and the process literally involves "dumping" ingredients in even layers into a baking dish, then covering them with melted butter before baking. The beauty of this cake is that you can easily substitute other fruit fillings based on what you like. This recipe is quick and easy because it uses apple pie filling rather than fresh apples. The moistness of the apple pie filling binds perfectly with the dry cake mix to provide the soft-cooked apple and moist cake-crumble texture that's always a crowd pleaser. Serve warm with whipped cream or ice cream.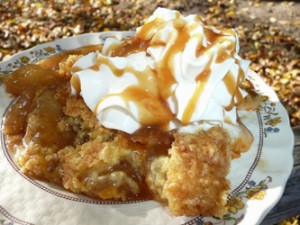 CARAMEL APPLE DUMP CAKE
• 2 cans of apple pie filling
• 1 box of yellow cake mix
• 1 cup of butter
• 1/2 cup caramel sauce
• 1/2 tsp cinnamon
• 1/2 cup chopped pecans
• Whipped cream or ice
cream for garnish
INSTRUCTIONS
• In a greased 9×13 dish, mix apple pie filling and caramel
sauce.
• Stir in the 1/2 tsp cinnamon if desired.
• Spread evenly in pan.
• Pour dry cake mix directly on top of the pie filing and
spread evenly.
• Cut the butter into thin pats (slices) and spread them
out across the top. Sprinkle with pecans if desired.
• Bake at 350 degrees for 45­-50 minutes or until top is
golden brown and apple filling is bubbly around the edges.
• Serve with ice cream or whipped cream.