Recipe
The warmer weather is here and with summer approaching, it's time to put the crock pot and recipes for comfort food away, and fire up the barbecue. Nothing accompanies meat hot off the grill better than a good salad. Macaroni salad is always a favourite. One of the best things about this salad is that it can be prepared in the morning and simply pulled out of the fridge at supper time. This is an old-fashioned type of macaroni salad made with mayonnaise but with a few special ingredients that make it special including, sweet pickle juice, sugar and fresh dill. These really make all the difference.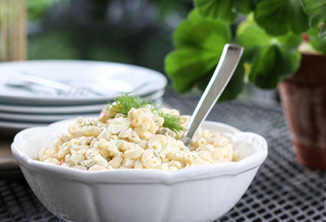 REALLY GOOD MACARONI SALAD
Dressing:
• 2/3 cup mayonnaise
• 1/2 cup sour cream
• 2 teaspoons Dijon mustard
• 4 teaspoons sweet
pickle juice
• 1 tablespoon sugar
• 1 teaspoon salt
• 1 teaspoon pepper
• 6 cups elbow macaroni , cooked
• 1/2 large white onion, finely chopped
• 4 celery stalks, finely chopped
• 5-6 sweet pickles, finely chopped
• 4 hard-boiled eggs, chopped
• 1 cup green olives
(pimento-stuffed), sliced in half
• 1 tablespoon fresh dill, chopped
• Additional fresh dill for garnish
Begin by cooking the macaroni according to the package directions. Cook al dente. Drain and rinse under cold running water. Set aside. For the dressing, in a medium-size bowl, whisk together the mayonnaise, sour cream, mustard, pickle juice, sugar, salt, and pepper. Whisk until combined.
In a large bowl, add the macaroni, onion, celery, pickles, green olives, and dressing. Stir well to coat.
Then add the hard-boiled eggs and dill. Stir again to coat. Add extra salt or pepper to taste. Chill in the refrigerator or transfer to a serving bowl. Garnish with fresh dill before serving.