Recipe
This classic carrot cake is perfectly moist and not overly sweet. The cream cheese frosting has a marshmallow-like fluffiness. If you're not a fan of walnuts, they can be omitted.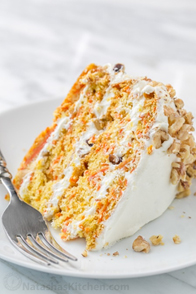 Carrot Cake Ingredients:
• 4 large eggs, room temp
• 1 cup granulated sugar
• 1 cup of vegetable oil or extra light olive oil
• 2 cups of all purpose flour
• 1 tsp baking soda
• ¼ tsp baking powder
• 3 cups (about 1 lb) shredded carrots (grated on the large holes)
Frosting/Decor Ingredients:
• 16 oz (2 bars) cream cheese, softened at room temp
• 8 Tbsp of butter, softened at room temp
• 2 cups powdered sugar
• 1½ cups walnuts, toasted in a skillet and coarsely chopped
Preheat oven to 350˚. Butter two 9" round cake pans and line the bottoms with parchment paper.
In a stand mixer, whisk 4 eggs and 1 cup sugar on high speed 3 min until thick and fluffy. With mixer on medium speed, add 1 cup oil in a steady stream. Sift 1 tsp baking soda and ¼ tsp baking powder into 2 cups of flour and whisk the dry ingredients together well. With the mixer on medium low, add the dry ingredients to the wet ingredients in fourths, scraping down the bowl as needed. Once flour is fully incorporated, use a spatula to fold in 3 cups of carrots just until evenly combined. Divide dough in to two round baking pans and bake at 350˚ for 30-35 min or until toothpick comes out clean (mine was perfect at 30 min). Let cake layers cool in their cake pans for 10 minutes then remove from pans and cool to room temp on a wire rack before slicing each layer in half.
How to Make Cream Cheese Frosting: Once cake layers are at room temp, make your frosting: With the whisk attachment on med/low speed, cream together 1 stick butter with 2 cups powdered sugar, scraping the bowl as needed (2-3 min). With the mixer medium speed, add cream cheese, one chunk at a time. After all the cream cheese is in, set the mixer to high speed and beat the frosting until smooth, fluffy and no lumps remain (5 minutes), scraping down the bowl a couple of times to make sure you don't have stray cream cheese stuck to the bowl.
How to Assemble the Best Carrot Cake: Place the first layer, cut-side-up on a cake platter. Spread enough frosting to cover the top and sprinkle with 2-3 Tbsp of chopped walnuts. Repeat with remaining cake layers and spread remaining frosting around the sides. Decorate the top layer with remaining chopped nuts around the top border and sides of the cake.