Recipe
My mother-in-law was telling me about a sweet potato dish that she enjoyed at the Thanksgiving meal she attended. With a little research I've found a recipe that looks exactly like the one she had described. It's extremely easy to prepare, and very impressive served on a holiday table or at any time you want a special and delicious dish that will impress your guests.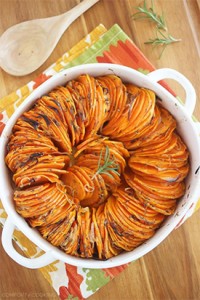 Crispy Roasted Rosemary Sweet Potatoes
Yield: Serves 4
• 3 Tablespoons butter, melted
• 3 Tablespoons olive oil
• 1/4 teaspoon crushed dried rosemary, or 1/2 tsp. fresh
(thyme can also be used)
• 3 lbs. (3-4 medium) sweet potatoes, peeled and sliced thinly
• 1 small onion, peeled and sliced thinly
• salt and freshly cracked black pepper, to taste
Preheat oven to 400 degrees F. Combine melted butter, oil and crushed rosemary or thyme in a small bowl. Pour 2 tablespoons of butter-oil mixture in the bottom of a 2-quart baking dish. Arrange potato slices vertically in the dish. Add a sliver of onion between every few slices of potato. Brush top with remaining butter-oil mixture. Season generously with salt and pepper. Cover dish with foil and roast for 1 hour, covered, until potatoes are tender (If your potato slices are thicker than shown, you may need to increase cooking time). Increase oven heat to 450 degrees F. Remove foil and roast another 10-15 minutes, until tops of potatoes are browned and crisp.