Recipe
Try this easy, elegant, roasted chicken with fresh lemons, oranges and herbs and you won't be disappointed. It's perfect for weeknight meals or a casual dinner party when you want something special yet simple. Once the chicken has baked, remove it to a serving platter, nestle in some fresh herbs and you have a dish that will impress. I halved this recipe and served it for dinner the other night with a bed of rice and steamed broccoli; the chicken turned out citrusy and tender. You can substitute or add in chicken breasts if you prefer. You may just have to adjust baking time.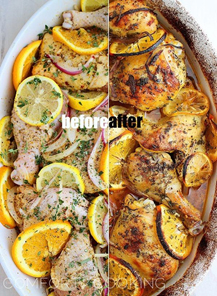 HERB AND CITRUS OVEN ROASTED CHICKEN
• 1/4 cup olive oil
• 4 cloves of garlic, minced
• 2 tablespoons sugar
• 2 whole lemons, one juiced and one sliced
• 2 whole oranges, one juiced and one sliced
• 1 tablespoon Italian seasoning
• 1/2 teaspoon paprika
• 1 teaspoon onion powder
• 1/4 teaspoon crushed red pepper flakes
• Kosher salt and freshly ground pepper, to taste
• 10-12 pieces (about 4 1/2 lbs.) bone-in chicken parts
(thighs and legs are best), pat dry
• 1 medium onion (any kind), thinly sliced
• 1 teaspoon dried thyme, or fresh chopped
• 1 tablespoon dried rosemary, or fresh chopped
Preheat oven to 400 degrees F. In a small bowl whisk together olive oil, garlic, sugar, lemon juice, orange juice, Italian seasoning, paprika, onion powder, red pepper flakes, and salt and pepper. Place chicken in a rimmed 13-in. x 9-in. baking dish. Place parts skin side up and spread them out evenly in the pan. Pour olive oil mixture all over chicken, turning pieces to coat all sides. Arrange slices of lemon, orange and onion around and under the chicken. Sprinkle all over generously with thyme, rosemary, salt and pepper. Bake uncovered for about 1 hour, or until chicken is cooked and juices run clear. Remove to a serving platter and garnish with additional chopped fresh herbs, if desired.